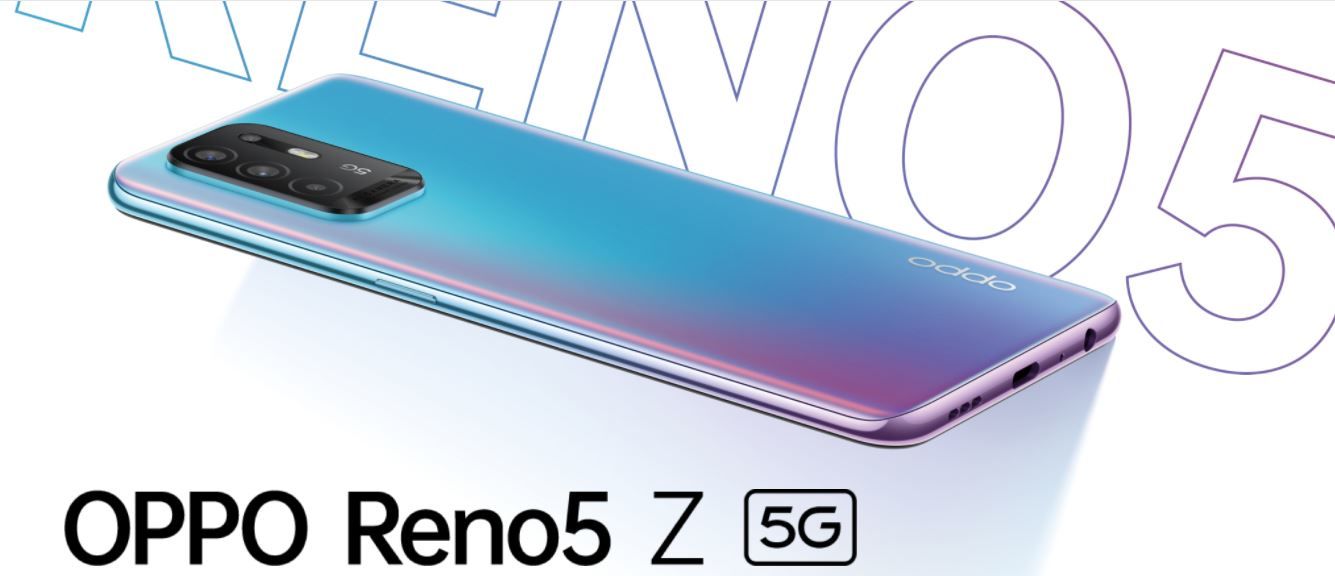 OPPO RENO5 Z 5G



Ultra-thin, Ultra-lightweight, Irresistibly Smooth Feel
About 173g light and 7.8mm thin, feel the smooth sleek design of one of the thinnest 5G phones available.


One-Piece Quadcam, Simple Tough Design
The rear Quad Cameras feature a single, smooth piece of scratch resistant Gorilla Glass 5, designed with a hint of modern elegance.


Minimalist Colors, Timeless Elegance
Discover new minimalist colors that are simple yet elegant, premium yet tasteful, distinctive yet still reminiscent of timeless classics.


Super AMOLED Punch-Hole Display, Immersive Viewing Pleasure
Enjoy viewing HD content on the Super AMOLED display featuring a large 90.8% screen-to-body ratio with In-Display Fingerprint 3.0 and 3.7mm diameter mini punch-hole.


Octa-Core 5G SoC, 5G Network Speed
Experience super-fast 5G speeds with a high-performing CPU, while the 360° Antenna 3.0 ensures optimal signal no matter how you hold your phone.


OPPO 30W VOOC Flash Charge 4.0, 5-Min Charge, 2.9 Hrs of Calling
OPPO's proprietary VOOC Flash Charge combined with a 4310mAh large battery allows you to power up quickly, while VOOC Flash Charge is especially useful for emergency low-battery situations.


Super Nighttime Standby, Intelligent Power at Night
A super low-power mode that allows your phone to intelligently standby overnight with little power consumption, using up only 1.78% battery over 8 hours.
System Performance Optimizer, Designed for Extended Smooth Performance
Reduces possibility of lagging even after longf periods of use. SPO can help improve the start-up speed of frequently used apps, intellegently detect and prevent app crashes, and support dynamic cleaning of memory.
Ultra Night Video Quad Camera, Brilliant Night Photography
Combined with the large 48MP sensor, OPPO's proprietary Ultra Night Video Algorithm dramatically improves night-time video performance. Night videos are not only significantly brighter, but also with more vivid color.


HDR Video Abundant Colors, Vivid Captures
Dramatically improved video dynamic range, allows for better exposure, more vivid color, and minimized image noise even under backlighting conditions.


Dual-View Video, A Full-View Way to Share Stories
Simultaneously turn on the front and back cameras and record in one split-screen mode. Perfect for Vlogging and Instagram Stories – capture every moment from both sides of the screen.


AI Scene Enhancement 2.0, Intelligent Photos
The AI camera recognizes 22 types of scenes and intelligently applies scene enhancement algorithms for instantly optimized photos. Be it landscapes or food — capture beautiful photos anywhere.


Dynamic Bokeh, Charming Portraits with One-Tap
An all-new dynamic motion blur background that adjusts brightness and brings your subject beautifully in focus.


Night Plus, Made for Night-time City Adventures
Two new styles for night city shots: Astral and Dazzle transforms your nightscapes with breathtaking details.


Game Focus Mode, All-Immersive Gaming Experience
Looking for an immersive gaming experience? Look no further. Turn on Bullet Notifications for interruption-free gaming sessions. Get into your game swiftly with Quick Startup in 24 hours after exiting the game. Less waiting = More playing


Efficiency 3.0, Welcome to Next-Level Productivity

*FlexDrop
A New Way to Multitask
*Folder Quick Merge
One-Step Drag and Combine
*3-Finger Translate with OPPO Lens
Instantly Translate Web Text with a Swipe
OPPO RENO5 Z 5G Ultra-thin, Ultra-lightweight, Irresistibly Smooth FeelAbout 173g light and 7.8mm thin, feel the smooth sleek design of one of the thinnest 5G phones available. One-Piece Quadcam, Simple Tough DesignThe rear Quad Cameras feature a single, smooth piece of scratch resistant Gorilla Glass 5, designed with a hint of modern elegance. Minimalist Colors, Timeless EleganceDiscover new minimalist colors that are simple yet elegant, premium yet tasteful, distinctive yet still reminiscent of timeless classics. Super AMOLED Punch-Hole Display, Immersive Viewing PleasureEnjoy viewing HD content on the Super AMOLED display featuring a large 90.8% screen-to-body ratio with In-Display Fingerprint 3.0 and 3.7mm diameter mini punch-hole. Octa-Core 5G SoC, 5G Network SpeedExperience super-fast 5G speeds with a high-performing CPU, while the 360° Antenna 3.0 ensures optimal signal no matter how you hold your phone. OPPO 30W VOOC Flash Charge 4.0, 5-Min Charge, 2.9 Hrs of CallingOPPO's proprietary VOOC Flash Charge combined with a 4310mAh large battery allows you to power up quickly, while VOOC Flash Charge is especially useful for emergency low-battery situations. Super Nighttime Standby, Intelligent Power at NightA super low-power mode that allows your phone to intelligently standby overnight with little power consumption, using up only 1.78% battery over 8 hours. System Performance Optimizer, Designed for Extended Smooth Performance Reduces possibility of lagging even after longf periods of use. SPO can help improve the start-up speed of frequently used apps, intellegently detect and prevent app crashes, and support dynamic cleaning of memory. Ultra Night Video Quad Camera, Brilliant Night PhotographyCombined with the large 48MP sensor, OPPO's proprietary Ultra Night Video Algorithm dramatically improves night-time video performance. Night videos are not only significantly brighter, but also with more vivid color. HDR Video Abundant Colors, Vivid CapturesDramatically improved video dynamic range, allows for better exposure, more vivid color, and minimized image noise even under backlighting conditions. Dual-View Video, A Full-View Way to Share StoriesSimultaneously turn on the front and back cameras and record in one split-screen mode. Perfect for Vlogging and Instagram Stories – capture every moment from both sides of the screen. AI Scene Enhancement 2.0, Intelligent PhotosThe AI camera recognizes 22 types of scenes and intelligently applies scene enhancement algorithms for instantly optimized photos. Be it landscapes or food — capture beautiful photos anywhere. Dynamic Bokeh, Charming Portraits with One-TapAn all-new dynamic motion blur background that adjusts brightness and brings your subject beautifully in focus. Night Plus, Made for Night-time City AdventuresTwo new styles for night city shots: Astral and Dazzle transforms your nightscapes with breathtaking details. Game Focus Mode, All-Immersive Gaming ExperienceLooking for an immersive gaming experience? Look no further. Turn on Bullet Notifications for interruption-free gaming sessions. Get into your game swiftly with Quick Startup in 24 hours after exiting the game. Less waiting = More playing Efficiency 3.0, Welcome to Next-Level Productivity *FlexDropA New Way to Multitask *Folder Quick MergeOne-Step Drag and Combine *3-Finger Translate with OPPO LensInstantly Translate Web Text with a Swipe