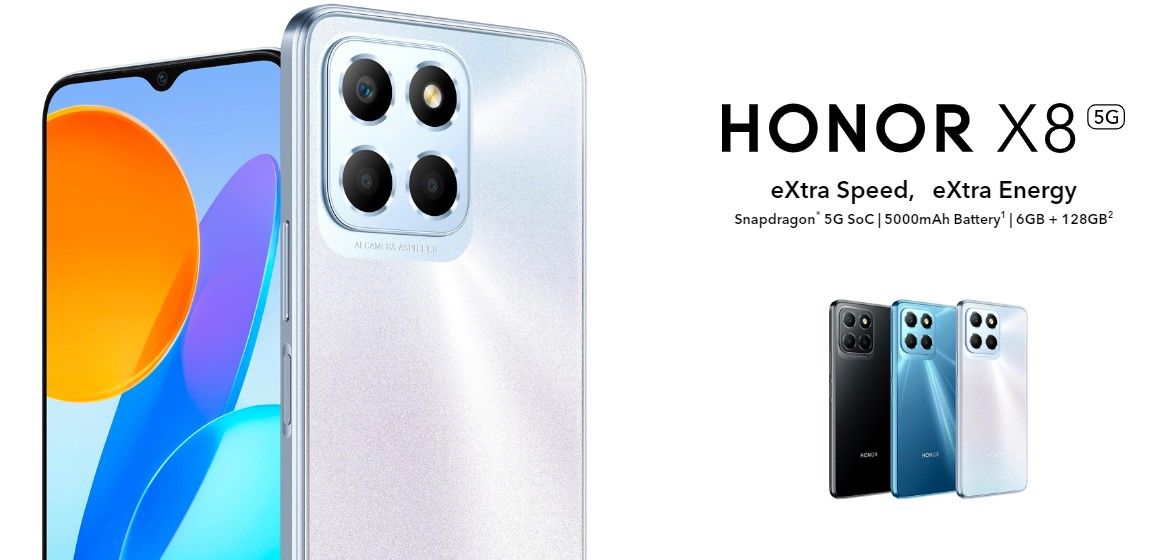 HONOR X8 5G


Qualcomm Snapdragon chip, for an excellent 5G communication experience.
Faster and more efficient, letting you download a 1GB file in 10s, bringing you smooth communication, and uninterrupted entertainment!


5,000 mAh large battery that provides you with everlasting power.
Large battery capacity that is blessed by HONOR's smart power-saving technology, providing you with uninterrupted power all day long.


128GB super large storage, to keep all your best memories.
128 GB large storage that lets you forget about having to delete music or photos. Good times without having to compromise!


6GB + 2GB HONOR RAM Turbo
Smooth 8 GB experience from 6 GB of RAM, offering greater capabilities on the fly. Open multiple apps without any stress, and switch between them smoothly within an instant.


Ultra-clear recording, to document the exciting moments of your life.
Rear 48 MP triple camera, capturing the most dazzling moments in your daily life.


6.5-Inch HONOR Fullview Display, enjoy a world of excitement that's soothing to your eyes.
The 6.5-inch high-definition screen gives you an intimate and comfortable visual experience round the clock, be it day or night.


Elegant, Classic Design
Comes in Three colors:Titanium Silver, Ocean Blue and Midnight Black. Style that never grows old, illuminating the light at your fingertips.


Rigorous Quality Standard Top quality product. Zero compromise
Power Button Test 200,000 times
Touch Screen Durability Test 800,000 times
Maximum Load 70Kg
Fingerprint Button Test 200,000 times
Temperature Cycle Test Between-40°C~70°C
HONOR X8 5GQualcomm Snapdragon chip, for an excellent 5G communication experience. Faster and more efficient, letting you download a 1GB file in 10s, bringing you smooth communication, and uninterrupted entertainment!5,000 mAh large battery that provides you with everlasting power. Large battery capacity that is blessed by HONOR's smart power-saving technology, providing you with uninterrupted power all day long.128GB super large storage, to keep all your best memories. 128 GB large storage that lets you forget about having to delete music or photos. Good times without having to compromise!6GB + 2GB HONOR RAM Turbo Smooth 8 GB experience from 6 GB of RAM, offering greater capabilities on the fly. Open multiple apps without any stress, and switch between them smoothly within an instant.Ultra-clear recording, to document the exciting moments of your life. Rear 48 MP triple camera, capturing the most dazzling moments in your daily life.6.5-Inch HONOR Fullview Display, enjoy a world of excitement that's soothing to your eyes. The 6.5-inch high-definition screen gives you an intimate and comfortable visual experience round the clock, be it day or night.Elegant, Classic Design Comes in Three colors:Titanium Silver, Ocean Blue and Midnight Black. Style that never grows old, illuminating the light at your fingertips.Rigorous Quality Standard Top quality product. Zero compromise Power Button Test 200,000 times Touch Screen Durability Test 800,000 times Maximum Load 70Kg Fingerprint Button Test 200,000 times Temperature Cycle Test Between-40°C~70°C