Axiom Telecom Launches the New BlackBerry Z30 Smartphone with 5" Display and BlackBerry 10.2 OS in UAE
24 Sept, 2013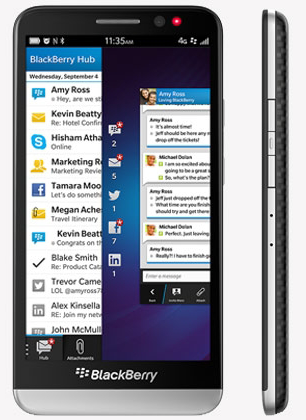 Biggest, Fastest, Most Advanced BlackBerry Smartphone Lets You Take on Any Task and Always Be in Control
Axiom Telecom today launched the new BlackBerry® Z30 smartphone, BlackBerry's biggest, fastest and most advanced smartphone. Featuring BlackBerry® 10 OS version 10.2, the new all-touch BlackBerry Z30 smartphone comes with a beautiful 5" display and the largest battery yet on a BlackBerry smartphone. It is designed to keep you hyper connected, productive and always in control, and lets you share like you're there and collaborate with ease.
The new BlackBerry Z30 smartphone will be available from today for AED 2,499.
"The BlackBerry Z30 smartphone is very much a flagship release for BlackBerry, taking both the performance and aesthetics of BlackBerry 10 to the next level," said Faisal Al Bannai, CEO, Axiom Telecom.
"With the largest ever all-touch screen on a BlackBerry smartphone, powerful processing capabilities and substantial battery life, this is a smartphone built for both entertainment and business demands. We have already had significant pre-orders for the BlackBerry Z30, and we expect it to be one of the year's best selling devices at our stores across the UAE.".
The new BlackBerry Z30 smartphone comes with BlackBerry 10 OS version 10.2, which includes hundreds of refinements plus many new features that help you be more productive. Among key features are:
BlackBerry® Priority Hub – The new BlackBerry Priority Hub gives you instant access to the conversations and content most important to you to help you stay organized and focused on the most important tasks.
BBM™ Now in Any App and Message Previews Everywhere – You can now get a preview of any message as it arrives in whatever app you're in, and immediately dismiss it or tap it to read the full content and respond. If a BBM message arrives, you can instantly reply to the message without even leaving the app you're in.
5" Super AMOLED Display – The BlackBerry Z30 smartphone features the latest in display technology with a 5" Super AMOLED display that makes whatever you're running larger, clearer and more vivid. The smartphone also houses many top of the line components, including a 1.7 GHz processor with quadcore graphics that makes browsing web pages faster and games more detailed.
Stereo Audio – The BlackBerry Z30 smartphone comes with stereo speakers that immerses you in your music, videos, apps and games, and makes conversations sound like you're face-to-face.
New Antenna Technology – The BlackBerry Z30 smartphone features BlackBerry's new generation antenna technology that dynamically tunes reception to give you better connectivity in low signal areas. BlackBerry® Paratek Antenna can give you faster data transfers and fewer dropped calls in low signal areas, keeping you connected in more places.
Longer Battery Life – The BlackBerry Z30 smartphone includes a 2880 mAh battery that can give you as much as 25 hours of mixed use* to keep you moving from dawn 'til dawn.
With 2,000 employees, Axiom Telecom is the Middle East's largest mobile retailer, currently boasting a portfolio of 575 retail points and reaches over 3,742 points of sale across the region.
In addition to a growing reputation for its rapid launches, Axiom Telecom stands out for a host of customer service innovations such as a 60-second data transfer, a pick-up and delivery service for repairs, stand-by phones during the repair period, and a 2-year warranty on select brands.