axiom telecom Crowned with Prestigious Mohammed Bin Rashid Al Maktoum Business Award

22 February, 2017
Home-Grown Retail Giant Recognized for Ability to Redefine the
Mobile Experience in the UAE and across the GCC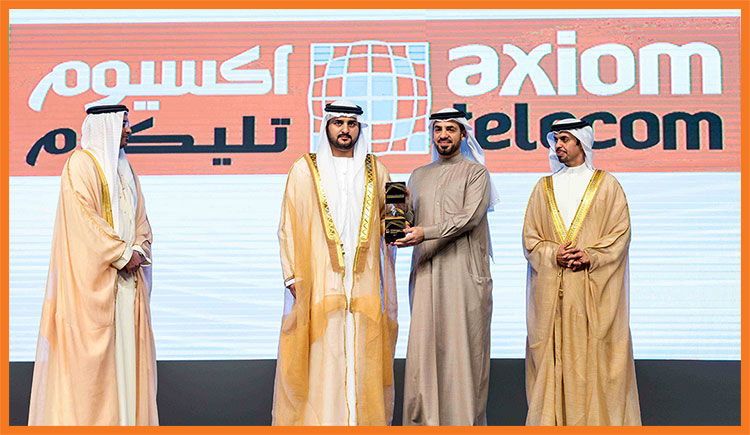 Dubai, United Arab Emirates
UAE-headquartered axiom telecom was crowned with the prestigious Mohammed Bin Rashid Al Maktoum Business Award at a star-studded ceremony yesterday in Madinat Jumeirah.
The region's mobility retail giant was recognized for its ability to enhance both its own internal operations as well as the overall customer experience through its unconventional and non-traditional approach to business.
axiom's new-look, bilingual website features added interactive options, enhanced security, improved usability, greater integration with stores and unmatchable delivery options.
Launched by the Dubai Chamber, the Mohammed Bin Rashid Al Maktoum Business Award aims to embrace all GCC Businesses in their journey of excellence. The Award recognizes and celebrates the success of these organizations that are leading the way in establishing new business excellence standards, and those whose continuous and outstanding achievements serve as an inspiration for all like-minded organizations across the GCC.
"We are truly honored to have received this esteemed award, and I would like to thank our wonderful team at axiom for their unwavering commitment to breaking the boundaries of innovation to create new experiences for our customers," said Fahad Al Bannai, CEO of axiom telecom.
"The last year has been a very exciting time for axiom – many of our stores underwent a complete transformation in line with evolving customer expectations and demands, and the response so far has been phenomenal. At axiom, we realize the important role that mobile technology plays in people's daily lives, and we promise to continue upholding business excellence across all our operations to deliver a seamless mobile experience to our valued customers," Al Bannai added. With a proven track record of being first-to-market with the latest in mobile technology, axiom telecom continues to surprise and impress customers with its nuanced approach to retail. Last year, the industry trailblazer launched a new store concept with a focus on experiential shopping, offering customers a memorable and engaging in-store experience through live demo stations, an expanding portfolio of mobile and accessory brands, and the first-of-its-kind complete smartphone and tablet customization service, 'Switch'. This one-stop-shop approach has helped establish axiom as the go-to mobility destination among the GCC's tech savvy millennial population. However, axiom's laurels do not stop there. Known for its gold standard of customer care, the company also continues to expand its range of value-added services as part of its tireless efforts to ensure customers enjoy an uninterrupted mobile experience. Most recently, axiom launched its subscription-based Damage Insurance, Priority Repair, and Mobile Security services, offering customers protection from out-of-warranty damage, catering to the region's demand for quick, hassle-free troubleshooting, and serving the growing need for reliable protection of personal information."

For more information, please Email :marketing@axiomtelecom.com