Ultra slim and sleek design in durable aluminium housing. Designed to be held together with smartphone whilst in use.
Convenient integrated and stowable MFI Lightning cable with PD (Power Delivery) 18W fast charging. 80% faster than regular 10W Lightning cables and chargers (only compatible with newer models (iPhone X onwards)
18W QC3.0 fast charging USB-A output (80% faster than standard 2A USB output)
Type-C PD (power delivery)18W charging input for recharging the power bank quickly (80% faster compared to standard 2A/10W power banks)
Built-in LCD battery % level display. See the remaining charge in your power bank at the touch of a button.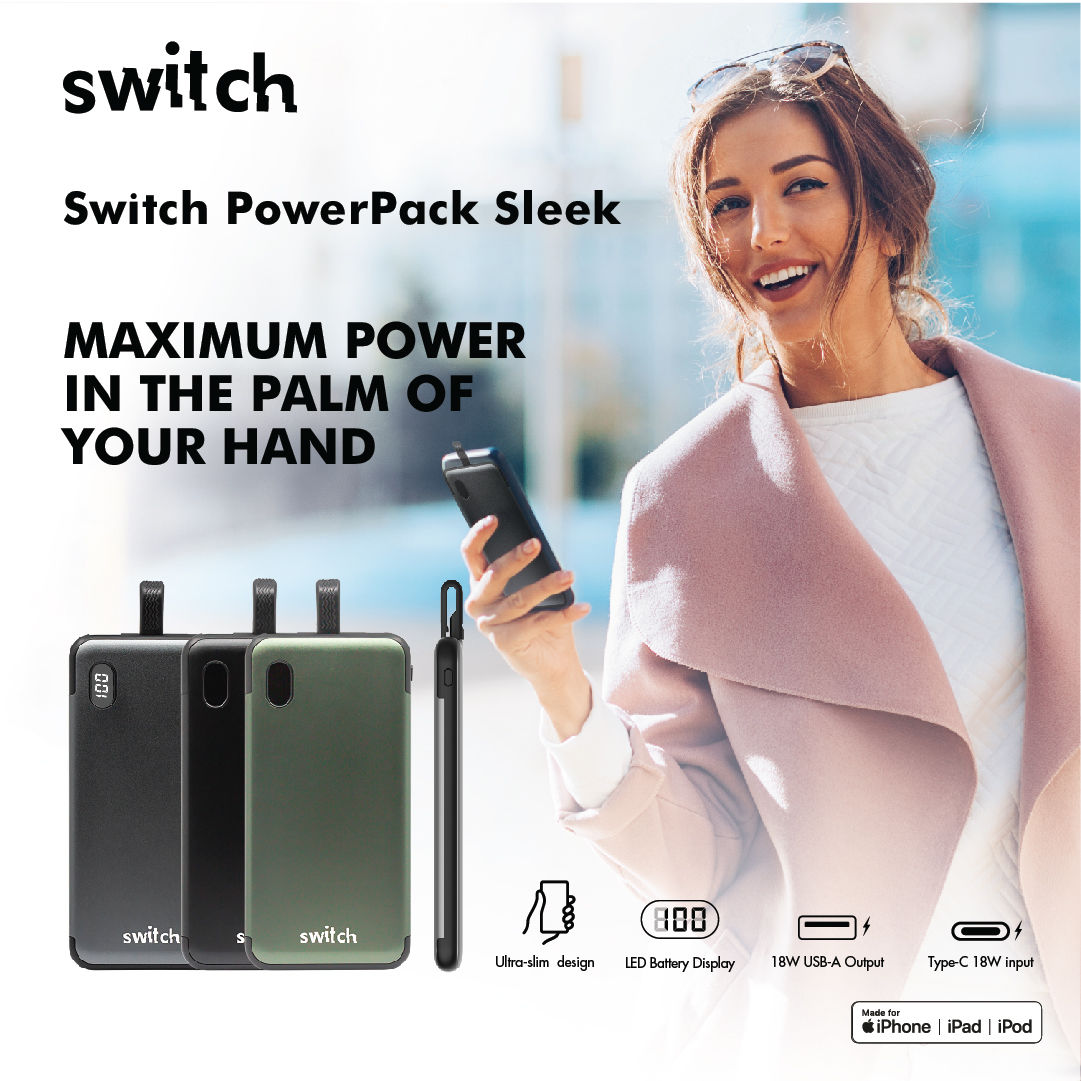 SWITCH POWER BANK 10K MAH POWERPACK SLEEK MFI LIGHTNING
Maximum power in the palm of your hand
Slim and sleek 10000 mAh portable power bank with inegrated 18W MFI Lightning cable and 18W QC3.0 fast charging outputs
SWITCH POWER BANK 10K MAH POWERPACK SLEEK MFI LIGHTNING Maximum power in the palm of your hand Slim and sleek 10000 mAh portable power bank with inegrated 18W MFI Lightning cable and 18W QC3.0 fast charging outputs
Be the first one to review this product


PRODUCT DETAILS
10000 mAh Ultra-slim and sleek compact design
Integrated MFI Lightning Cable for iPhone users
Type-C PD 18w input & Output
Qualcomm QC3.0 Quick Charge USB Output
LED battery percentage display
WARRANTY