Samsung Galaxy S9
This marvel of a smartphone can be yours at easy monthly installments, click here to know more.

When you get the Samsung S9 Plus, you automatically become a part of the Samsung Members which opens up savings on hotel stays, restaurants, leisure activities, shopping and so much more. To know more about the Samsung Members App benefits, please click here

AR Emoji
The camera that turns you into an emoji, so you're not the "you" everyone else is. Create an Augmented Reality version of yourself simply by taking a selfie. Then share your real-life feelings as emoji stickers and videos.
Super Slow-Mo
Next level slow-motion:Super Slow-mo.
Shoot at incredible speed:960 frames per second, thanks to the super speed sensor. Show off your directorial skills by adding Super Slow-mo bursts to a video or spotlighting one moment.
Picture low light like daylight.
Capture your nighttime adventures with stunning clarity. with the F1.5 aperture mode and multiframe noise reduction, the rear camera ensures the photos you take in the dark come out clear and bright, no fine-tuning required.
Dual Aperture
The camera that takes beautiful photos in different kinds of light.
Take photos without thinking twice - no matter the time of day. with two f-stop modes, the category-defining Dual Aperture adapts to bright light and super low light automatically, like the human eye. And you can flex your artistic side, toggling the aperture to create a mood.
Live Translation
The camera that can instantly read what your eyes can't.
Get real-time translation when you need it. Live Translation lets you see the world in a new way.
Surround sound stereo speakers
The phone that surrounds you in Dolby Atmos sound on stereo speakers tuned by AKG.
Hear the action with clarity thanks to the pure sound of stereo speakers tuned by AKG. The addition of Dolby Atmos delivers rich and vibrant sound, giving you a theater-like audio experience.
Water and dust resistance
Make a splash with the remarkable water-resistant phone.
Don't be afraid to go out and get wet. Galaxy S9 and S9+ have an IP68 rating, meaning you don't have to stop texting or taking photos on account of rain.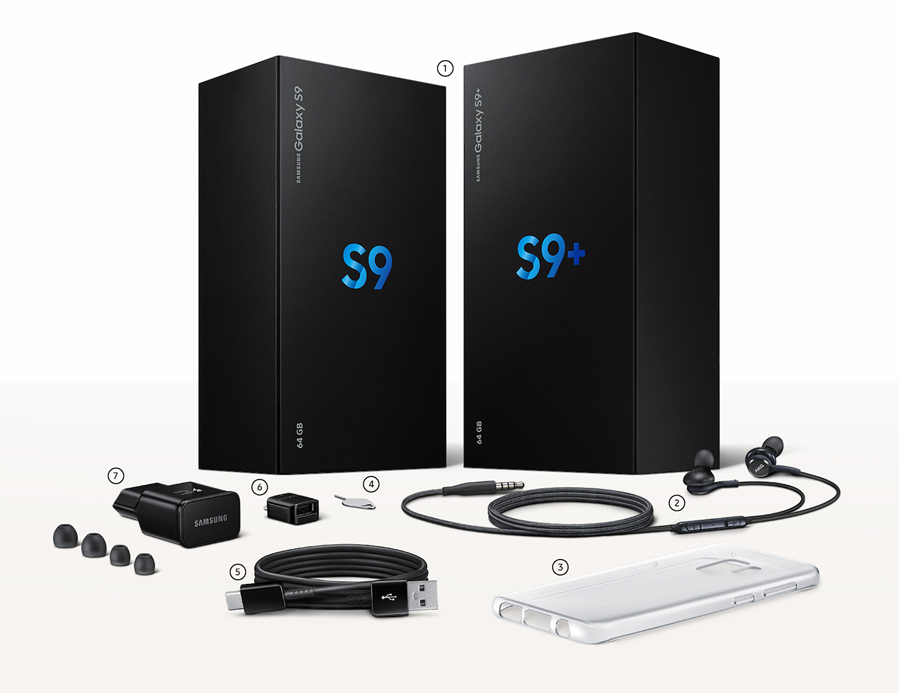 Components
Device
Earphones
Case
Ejection pin
USB cable
USB connector (USB Type-C)
USB power adaptor
Quick Start Guide (not shown in image)
Samsung Galaxy S9 This marvel of a smartphone can be yours at easy monthly installments, click here to know more. When you get the Samsung S9 Plus, you automatically become a part of the Samsung Members which opens up savings on hotel stays, restaurants, leisure activities, shopping and so much more. To know more about the Samsung Members App benefits, please click here AR Emoji The camera that turns you into an emoji, so you're not the "you" everyone else is. Create an Augmented Reality version of yourself simply by taking a selfie. Then share your real-life feelings as emoji stickers and videos. Super Slow-Mo Next level slow-motion:Super Slow-mo. Shoot at incredible speed:960 frames per second, thanks to the super speed sensor. Show off your directorial skills by adding Super Slow-mo bursts to a video or spotlighting one moment. Picture low light like daylight. Capture your nighttime adventures with stunning clarity. with the F1.5 aperture mode and multiframe noise reduction, the rear camera ensures the photos you take in the dark come out clear and bright, no fine-tuning required. Dual ApertureThe camera that takes beautiful photos in different kinds of light. Take photos without thinking twice - no matter the time of day. with two f-stop modes, the category-defining Dual Aperture adapts to bright light and super low light automatically, like the human eye. And you can flex your artistic side, toggling the aperture to create a mood.   Live Translation The camera that can instantly read what your eyes can't. Get real-time translation when you need it. Live Translation lets you see the world in a new way. Surround sound stereo speakers The phone that surrounds you in Dolby Atmos sound on stereo speakers tuned by AKG. Hear the action with clarity thanks to the pure sound of stereo speakers tuned by AKG. The addition of Dolby Atmos delivers rich and vibrant sound, giving you a theater-like audio experience. Water and dust resistance Make a splash with the remarkable water-resistant phone. Don't be afraid to go out and get wet. Galaxy S9 and S9+ have an IP68 rating, meaning you don't have to stop texting or taking photos on account of rain. Components Device Earphones Case Ejection pin USB cable USB connector (USB Type-C) USB power adaptor Quick Start Guide (not shown in image)